Sponsored Links
Pubblicità
Nicola Rainiero
Tue, 09/17/2013 - 10:35
Sometimes it's necessary to add to your reports several drawings in order to facilitate the comprehension of the calculus and data. LaTeX can solve this issue without using any external software but only through the Graphics packages. I show you how TikZ-MEC, a custom library written by Francesco Clemente, can help in the description of mechanical problems related to (internally and externaly) loaded structures.
Nicola Rainiero
Mon, 04/22/2013 - 09:27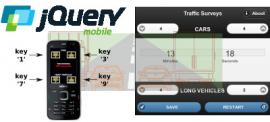 I have tried to adapt my old Python application written for S60 smartphones into a modern webapp which should be able to work in any recent internet browser. Therefore I have used jQuery Mobile to convert it and it was very easy, nevertheless my terrible programming skills. Below there is my final app and some description.
Nicola Rainiero
Mon, 03/25/2013 - 12:51
Two years ago I had to make many traffic surveys along a big road in Rovigo city during the rush hours: in the early morning and in the late afternoon. I simply had had to count the numbers of cars and long vehicles in the two directions of travel and in preset positions and times (15 minutes per station). To do this I wrote a Python program for my phone: a Nokia N78 (equipped with Symbian 60v3). Here is the full story, code and how it worked.
Job goals
The work was easy but stressful and repetitive: