Sponsored Links
Pubblicità
Nicola Rainiero
Wed, 12/12/2012 - 09:19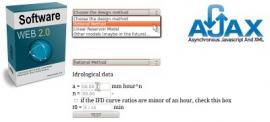 Writing my first web application to design a storm sewer system, I'm studying a solution to load the proper form according to user selection. I will show you a provisional code to solve this demand. Now the style (texts, colours and graphics) of the web-app is ugly, I will write it last.
Nicola Rainiero
Sat, 07/28/2012 - 16:59
The CSS files in the default theme folder are an excellent starting point, because they are compatibles in almost all browsers and well tested, really in my site I modified and adapted the Bartik theme. Sometime modifications lead bad surprises in print style and so you need hide a few elements, secondly you can add two useful features: complete address in the links and signature under header.